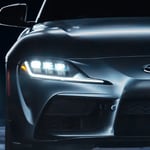 The 2020 Toyota GR Supra is an all-new model, which is set to bring new life back to an iconic line of popular sports cars. So today, we're going to discuss a couple of this new model's performance and handling features in order to help you get to know this vehicle better.
Balance is Key
During the production of the 2020 Toyota GR Supra, the designers ensured a critical weight balance, strategically placed exactly where it is needed most. To do this, the engine and transmission were dropped as low as possible to create a low center of gravity. The powerplant has also been pushed back toward the center in order to achieve more efficient handling.
Available Brembo Brakes
A leading name in high-performance brake components, Brembo's 4-piston red front brake calipers work cohesively with 2-piece, 348mm vented disc rotors, which makes for consistent, predictable braking.