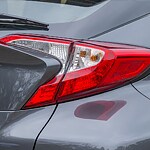 Toyota C-HR isn't waiting for the pack to catch up. This driver-centered subcompact crossover SUV continues to be so popular among drivers and critics. It's not hard to see why. It looks magnificent at the curb, has plenty cargo/passenger space, handles like a champ and packs a ton of advanced safety features. Our Capitol Toyota team selected the following two for your info.
Toyota C-HR Has Your Back
Thanks to the Toyota C-HR Blind Spot Monitor, you'll never suffer another dangerous lane change on the highway or streets of Salem. This monitor uses sensors and cameras to detect and alert you to vehicles in your blind spot. It does the same when a ride crosses behind you. The warning keeps you abreast of who's changing lanes behind you, helping you merge or depart more smoothly and safely.
Back Up With Confidence
C-HR also comes standard with a backup camera. The camera delivers a live feed of everything behind you, broadcasting to a color, 8-inch, in-dash screen. Now you can back into and out of parking spaces with a full view of what's behind you.
See these and other Toyota C-HR safety features in person during a test drive at our dealership. See you soon.