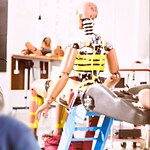 You probably have seen different types of car ratings. The thing sounds better, but who does the ratings? How do they conduct the tests? Car ratings are based on their safety gears. That should be the priority while buying one. There is a need to consider conducting thorough investigations on how the process can be completed.
?
Every car being sold in the US must undergo tests. The two major providers of safety ratings are IIHS and NHTSA. Their ranking systems vary, but they are the only reliable sources that follow extensive testing procedures.

NTHSA
A five-star safety rating is how testing is concluded. The organization performs major tests for crashworthiness based on side and frontal impacts and a rollover rating.

IIHS
The organization is a group funded by insurance companies. They do not give a star rating but classify them in four ways:
Poor
Marginal
Acceptable
Good
Good is the highest while poor is the lowest. The tests pass through five tests to help determine the safety of the car.