Many people think that when you're replacing fluid in your vehicle, it doesn't really matter which brand you use. The reality is quite different. Just because the fluid container has the right nomenclature on it (like 10W-30 oil, for example) doesn't mean that it has the right chemical composition to function exactly the way that it should. Automotive engineering has become very precise, and your Toyota was designed with very specific materials in mind. At the Capitol Toyota Auto Parts Center, we stock genuine OEM and Toyota approved products; so you can rest assured that the fluid you're putting in your car, truck, or SUV will help your Toyota run exactly the way it was meant to. Keep reading to learn more about the automotive fluids we keep in stock. Or you can stop by and see us in person, and we'll be happy to share our expertise with you.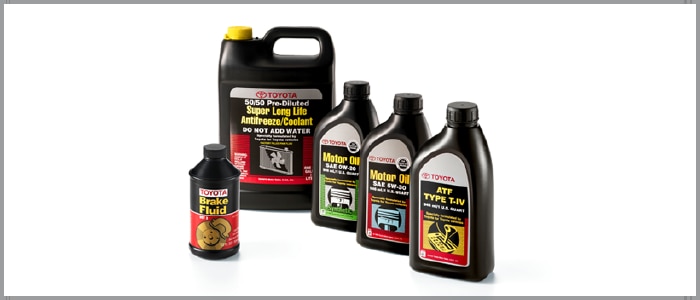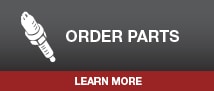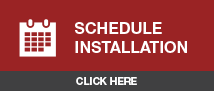 Super Long Life Antifreeze/Coolant
This antifreeze and coolant that has been approved by Toyota Motor Company is formulated to regulate the temperature of your engine without utilizing borate, nor any kinds of silicates. That means it will last longer, making for increased intervals between coolant system flushes, and more peace of mind for you.
Pre-diluted 50/50
Compatibility with non-metallic materials helps it extend the life of water pump seals
Compatible with Toyota Red Long Life Antifreeze/Coolant
Won't clog radiators due to silicone "gelling"
Won't corrode aluminum surfaces like coolants that contain borate
Genuine Toyota Motor Oil
Oil is the life blood of your engine. Without it, your engine would literally grind to a halt. With the wrong oil, your engine will need to work harder, and is more likely to overheat. Toyota Motor Oil is specially formulated with an additive that fights corrosion and foaming.
Available in 5W-30, 10W-30 and 10W-40 grades
Viscosity index improvers stabilize viscosity levels for a wide range of operating temperatures
Four-point depressants maintain fluidity in cold climates
Synthetic Motor Oil
Recently designed vehicles perform better with synthetic motor oil than they do with regular oil, because synthetic keeps a lower viscosity (so that it's more like water than gel) that's easier for your engine to pump through the system. That also makes for better penetration through the tight tolerances that come from Toyota's precise manufacturing.
Longer oil change intervals
Helps improve fuel economy
Helps improve thermal stability
Brake Cleaner
Why is brake cleaner fluid so important? It removes oil, dirt, and other debris from your braking system with a mixture of chemicals that break down those elements and wash them away. That not only extends the life of your brake pads and rotors, but gives you more reliable braking power.
Helps prevent brake squeal and chatter
Quick drying
Cleans without any waxy film or residue
Battery Cleaner
It's more important than you think to occasionally clean your vehicle's battery. Over time, corrosive materials will build up, which reduce the efficiency and lifespan of the battery. Corrosive buildup on the connecting poles and wires can cause your car to break down, or possibly to not even start at all.
Protective film helps provide a barrier against corrosion
Penetrates and emulsifies dirt, grease and deposits
Helps return pH to a safe level
Light red color turns blue in the presence of acid
Automatic Transmission Fluid
Long before a damaged transmission leaves you stranded on the side of the road, it will grind, shudder, struggle to change gears, or maybe even refuse to change gears. That's not something you want to find out right when you're merging onto the highway, or making a left turn at an intersection.
Helps control "shudder" and provide excellent drivability
Resists foaming and oxidation
Extends transmission life
Brake Fluid
Zero-to-sixty will give you a thrill, but sixty-to-zero will save your life. Even when you're just pulling into a parking space, you rely on the fluid in your hydraulic brake system to prevent an expensive fender-bender. Toyota-approved brake fluid can withstand high temperatures, and is recommended for all Toyota brake systems.
Capitol Toyota Has the High Quality Parts You Need
When you're performing the maintenance on your car yourself, we know that it can be tempting to just take a trip down to your local auto parts chain store and buy whatever fluids and parts will work. But those parts and fluids are designed to work with as wide of a range of vehicles as possible; and working isn't the same as really performing. The amount of money you save today can be totally eclipsed by the amount of money you might be spending on repairs or replacements in the future. But when you purchase your fluids and parts from the Capitol Toyota Parts Center, you can rest assured that they were made with your specific vehicle in mind, to meet the high performance standards of Toyota. Come visit us at 738 Auto Group Avenue Northeast in Salem, Oregon, to talk to our expert staff members about the best products for your car, truck, or SUV.
Hours
Monday

7 a.m. - 6 p.m.

Tuesday

7 a.m. - 6 p.m.

Wednesday

7 a.m. - 6 p.m.

Thursday

7 a.m. - 6 p.m.

Friday

7 a.m. - 6 p.m.

Saturday

8 a.m. - 5 p.m.

Sunday

Closed