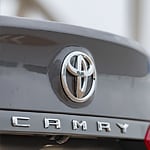 Everybody wants to ride down the road in a nice car. It helps you make an impression on everyone that you see. The Toyota Camry has a metallic front grille. It also has 18-inch wheels. Additionally, the Toyota Camry has a dual exhaust with quad chrome tips. Not only does it have a powerful look, but it also has an amazing sound.
The LED lights are not only eye-catching, but they will also help light up your pathway. There are LED headlights and taillights. The headlights have an auto on and off feature. This will make it easier for you to safely drive at night or when the weather outside is not ideal.
The Toyota Camry has a high-energy solar absorbing glass. This is designed to prevent infrared rays and ultraviolet rays from penetrating your vehicle. It can also prevent the inside of your vehicle from overheating.