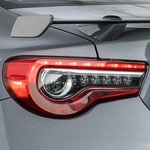 Have you test driven the new Toyota 86? Our Capitol Toyota team recommends that you do so. This coupe combines refined styling and interior comfort with a spacious cargo area and dynamic performance features. It's a total package you have to experience for yourself.
Engine to the Stars
The Toyota 86's wades into race car design with its high-horsepower engine. It's a flat-four boxer engine with tough, compact housing and pistons that are horizontally opposing. Its low position in the chassis augments the Toyota 86's balance, stability and performance. Plus, the engine pairs with the Toyota 86's manual and automatic transmission. Its horsepower and torque range from 200 to 205 and 151 to 156 lb.-ft., respectively.
Smooth Ride Feel on Diverse Roads
In a perfect world, all of the roads in Salem are paved and perfectly flat. For less than perfect roads, the Toyota 86 packs award-winning SACHS dampers integrated into its frame. The dampers absorb shock, prevent vehicle bounce and keep the Toyota 86 firmly grounded during tight turning.