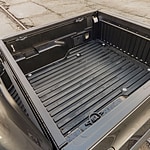 The Toyota Tacoma is yet another strong pickup truck for consumers to take advantage of. While the brand itself may seem more pedestrian to many, this model presents itself with the same mass and strength found from its competitors.
What makes the Toyota Tacoma stand out is the performance it has, which comes from the 3.5-Liter V6 engine as well as the 6-speed manual transmission; The former allows the truck to remain fast even when it's towing a heavy load while the latter works well with driving around different roads thanks to the included 6 speeds as well as the three pedals.
Speaking of towing, the Toyota Tacoma allows drivers to tow up to 8,800 pounds; models with an upgraded towing package can haul up to 10,200 pounds. This feature is perfect for towing a mobile home or small trailers, making the Toyota Tacoma perfect for use during a family vacation or while tackling heavy-duty work!