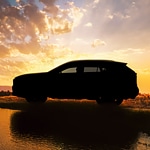 The Toyota RAV4 is changing the way we drive in Salem through technology. The digital rearview mirror is one way Toyota is doing this. A camera is mounted inside the rear window, allowing you to see a broader range of things when you choose to utilize this function. All you have to do is flip a switch.
We at Capitol Toyota love when automakers go the extra mile to provide options for drivers. The attention to detail is experienced in all of the safety features offered in the RAV4. The Pre-Collision System with Pedestrian Detection is a standard feature that showcases this distinction.
The feature utilizes a camera and radar to detect objects in front of you. It will send visual and audible alerts to you in certain scenarios where a potential collision is detected by the system. The system will also brake on its own if you don't react in time to avoid a suspected collision.